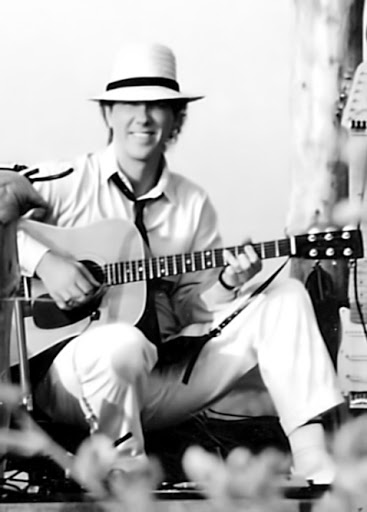 Jimmy Ryan is an American artist, composer, producer, and author with a career
that has spanned six decades. Beginning at seventeen, he and his college band, The
Critters had their first top forty hit, "Younger Girl" and in the next few years landed
three charting albums and two more top forty hits, "Mr. Dieingly Sad" and "Don't Let
The Rain Fall Down on Me."
In spring, 1968 Jimmy signed on as bassist for The Crazy World of Arthur Brown,
touring on Arthur's #1 hit "Fire." Jimmy was twenty-two at the time. In 1970,
Jimmy's friend, Carly Simon called him to put a band together for her. She was
breaking fast on the US and British top 40 with "That's The Way I've Always Heard It
Should Be," as well as her first album "Carly Simon," on which Jimmy played guitar.
Jimmy went on to perform with Carly on most of her future albums and continues to
work off and on with her to this day. Jimmy is featured in the 2018, BBC Special
"Classic Albums – Carly Simon: No Secrets." He was the guitar soloist on many of
Carly's hits, the most memorable being "You're So Vain," and the Academy Award
winning song of the year from the movie, Working Girl, "Let The River Run." Jimmy
also appeared in the video of the song. He performed in two HBO specials with
Carly, Live From Martha's Vineyard, and My Romance, as well as playing on the
studio recording of the My Romance CD with the legendary conductor and arranger,
Marty Paich (father of David Paich of Toto fame).
Also of note is that along with the above, Jimmy found time to perform in the
original Broadway production of Hair. He shared the spotlight with two other
guitarists from 1968 to 1972. He was also a principal actor and musician in the
Broadway production of "Pump Boys and Dinettes."
During his time working with Carly, he moved to London and recorded with
numerous artists including Cat Stevens, Jim Croce, John Entwistle of the Who,
Elton John & Kiki Dee, Tommy James, Jimmy Webb, The Doors, Andy Williams,
Martha Reeves, and Rod Stewart. Jimmy played guitar on Andy Williams' #1 Neil
Sedaka penned hit, "Solitaire." As a studio musician Jimmy has recorded along side
legendary session players, including Jim Gordon, Jim Keltner, Claus Voorman,
Nicky Hopkins, Bobby Keys, Richard Tee, Will Lee, Steve Gadd, Lowell George,
Robbie Robertson, Paul Shaffer, Rick Marotta, Tony Levin, Roger Hawkins,
Michael Brecker and David Sanborn. On Carly Simon sessions, he has
recorded/collaborated with major artists including Paul McCartney, Mick Jagger,
Luther Vandross, James Taylor and many more, earning him six gold and one
platinum record/CD.
In 1980, Jimmy signed a two-year deal as staff writer for Atlantic Records'
publishing company, Walden Music. During that time, his songs were covered by
rock/pop artists, The Association, Irene Kara and Mickey Thomas (lead singer
for Jefferson Starship/Elvin Bishop), as well as for pop/country artist, Michael
Johnson.
During the times when he wasn't recording or touring with Carly Simon, nor
recording and living in England, Jimmy developed a career scoring music for TV,
forming a music production company, Rampage Music New York. During his
Rampage years, he created the theme for NBC News, performed by the Utah
Symphony. His theme music ran originally in NY, then was adopted nationwide from
2003 to 2010 on many of the local NBC owned and operated stations. In 2005, he
wrote theme and background music for all the CNBC financial shows that aired from
6 AM to 6 PM weekdays, on six continents worldwide, many of which are still
running to this day. When MSNBC was ready to launch in July 1996, Jimmy was
called in to score the nationwide launch campaign.
When not writing news themes, Jimmy wrote music for The Discovery Channel,
Lifetime, USA Network, and PBS scoring the Nova movie of the year, The Pluto
Files – with Neil deGrasse Tyson. In collaboration with the History Channel, he
composed music for major exhibitions at the Smithsonian Institution, including
Deep Ocean Explorers, and Messages from the Graves, documentary music that
introduces The Liberty Bell, now playing in Independence Hall, Philadelphia and
four exhibition films for the George Washington Museum in Mt. Vernon. Jimmy
has also composed, arranged, and produced music for over five-hundred radio and
TV commercials for clients including Doritos, McDonalds, IBM, Ford, Nikon, Pizza
Hut, Budweiser, Chevy, Mennen, Palmolive, Hess, Hasbro, Downy, Clearasil,
Arby's, Coke, Diet Coke, Modells and more.
In April 2019, Jimmy and his touring band, The Hit Men were honored with the first
ever Road Warrior Award from the Nashville Musician's Hall of Fame, "In
recognition of their live performances and countless miles traveled sharing their
talent and musical genius with music fans worldwide."
Shifting from composer to author, in 2020 Jimmy created a memoir, Behind –
Autobiography of a Musical Shapeshifter, an in-depth look at life with superstars
from a very personal perspective. Behind is intimate, frank and does not hold back
on the personal issues that confronted him and those with whom he had the honor
to perform on stage and in the studio. He includes previously unpublished pictures
from his private collection and tells intriguing stories that have never been in print.
Behind was released on Sep 15, 2021 and is available worldwide at all major
booksellers.