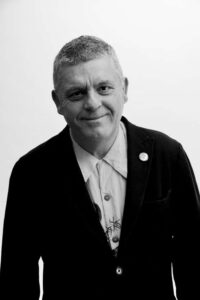 Tommy Kennedy IV, born in the North West of England. His early years were spent living in convents, caravans, and care homes around the UK.
He had a troubled childhood which resulted in him being sent to many Institutions, before finally leaving his hometown and heading to the bright lights of london.
After a few years in london, he spent over a decade travelling the world, living of his wits and not much else .
His love of music saw him running a bar and putting parties on in Thailand, where he came into contact with many musicians on his travels and made the fateful descion to head back to Notting hill, in 1999, setting up a music promotions company . He spent over 4 Years, homeless through drink and drugs and going bankrupt and losing his home .
He has spent the last 21 Years, living in London's Notting Hill, where he managed and promoted Bands. Including Managing Steve Dior, the legendary Punk Rock Singer who was hanging out with Sid Vicious when he died in New York .
Driving bands around the UK, and across Europe,he was kept very busy . He has been working for the last 16 years on the world famous Portobello Road, at the Mau Mau Bar, in Notting Hill, promoting gigs.
He has two children Sophie, and Tommy Jnr, the lights of his life. He is Currently working on his second book " Going Straight in Notting Hill Gate" about his release from the General Penitentiary in Jamaica, and working in the underground music scene in london, and turning his life around, which he Hopes to have finished sometime in 2020.
His philosophy on life, "find what you do best and share that knowledge to other people".